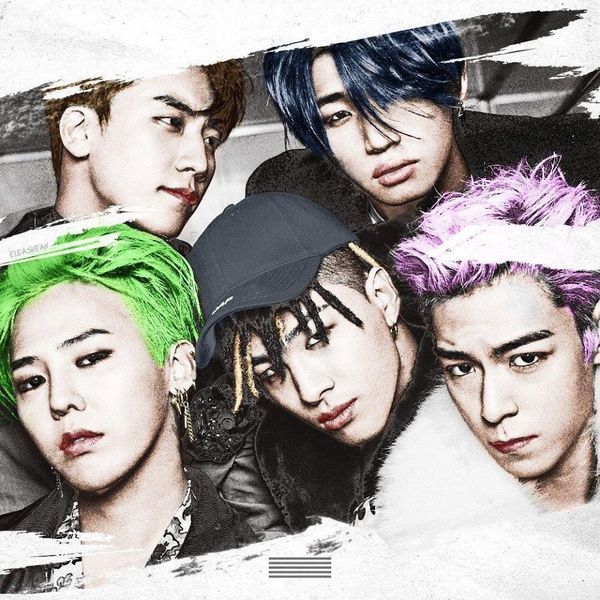 Ca khúc A Fool's Only Tear do ca sĩ BIGBANG. thể hiện, thuộc thể loại Nhạc Hàn. Các bạn có thể nghe, download (tải nhạc) bài hát A Fool's Only Tear mp3, playlist/album, MV/Video A Fool's Only Tear miễn phí tại LyricCuaTui.com
Lời bài hát: A Fool's Only Tear
Yo.. (hoo~) i feel so empty
Since you left me (wanna see your face my girl~)
It's like.. i don't even know how to explain
You see i'm sayin' (yeah~)
Mah nee ah puh suh nuh moo hwah nah suh
Nah neun meed goh sheep jee ah naht jee
Nuh yae doo noon eh nuh yae eep sool eh
Geu ahn eh nae gah sahl goh ee ssuht neun deh
Ee jehn nuhl dduh nah rah neun mah reul
Uh dduh geh nah yeh geh hahl soo eet nee~ (ha)
Nuh moo nah doh dang hwang hae geu mahn
Nuh reul boh naet jee~
Sarang hahn gee uhk ee nah reul boot jahp goh
Joh aht duhn mahl deul ee nah reul ool lee goh (duh nah reul ool lee goh)
Gah jee mahl lah neun mahl joh chah hah gee doh juhn eh
Buhl ssuh nuhn dohl ah suh buh ryuht goh
(oh) jee nah gahn shee gahn eul dohl lyuh suh rah doh (geu ruh geh doh~)
Nuh yeh geh joon sang chuh dah joon dae doh
Oh roh jee nuh hah nah mahn ee ssuh joon dah myuhn
Geu guhl loh nahn dwae ssuh (nahn dwae ssuh) forever (forever)
Hah roo gah gah goh hahn dahl ee gah doh~
Shee gahn eun moo eui mee hae ssuht jee
Soo hwah geel deu ruh nuh reul deu ruh doh~
Hahn mah dee moht hahn chae roh kkeun neun nae gah~
Nah doh nuhl eet geht dah neun mah reul
Uh dduh geh nae gah hahl soo eet geht nee~ (ha)
Nuh moo nah doh ae tah neun nae mahm~
Please don't leave me baby
Sarang hahn gee uhk ee nah reul boot jahp goh (ooh~)
Joh aht duhn mahl deul ee nah reul ool lee goh (nuh yae geu mahl geu ree~)
Gah jee mahl lah neun mahl joh chah hah gee doh juhn eh
Buhl ssuh nuhn dohl ah suh buh ryuht goh
(oh) jee nah gahn shee gahn eul dohl lyuh suh rah doh (dohl lyuh suh rah doh nah~)
Nuh yeh geh joon sang chuh dah joon dae doh (dah joon dae doh~)
Oh roh jee nuh hah nah mahn ee ssuh joon dah myuhn
Geu guhl loh nahn dwae ssuh (nahn dwae ssuh) forever (forever)
Nah noon mool ppoon een bah boh roh nahm neun dah hae doh
Doh juh hee nuh reul eet jee moht hae nah neun uh jjuhl soo uhp nah bwah
And every night ddoh noon mool ee baby
Nae geh roh dohl ah wah jool lae..
Yo! listen
Eet neun dah neun mah reun no way
Nahn nuh hah nah bah kkeh moh reu neun deh
Nuh wah hahn sah jeen hahn jang kkeut nae
Buh ree jee moht hah goh bah rah boh neh
Ah mah nah nuh ah nee myuhn dah sheen
Sarang ee rahn guh doo buhn dah shee
Hah goh sheep jee doh hahl soo doh uhp suh
Nae gehn ee jeh nuh ah nee myuhn ahn dwae
Please come back here
Soo mah neun sah rahm deul sohk eh suh nuhl
Jee kyuh nael soo ee ssuh nuhl wee hae sahl soo ee ssuh my baby
Ee jeh kkah jee geel ee reun nae mah eum sohk
Joo een eun bah roh nuh ppoon een guhl my lady
Nuh uhp sheen soom shweel soo uhp neun guhl
Dohl ah wah jwuh girl
Nee gah nuh moo doh boh goh sheep uh
Cuz you're my love..
Goh mah wuh nahl haeng bohk hah geh hae jwuh suh
Mee ahn hae nahl sarang moht hah geh hae suh
(nah reul sarang hahl soo uhp geh hae jwuh)
Suh roh yeh geh mah eum mah juh joo neun eel kkah jee
Ee jeh neun dah moht hah geh dwae suh (dah moht hah neun guhl~)
(oh) jook uh doh nuh hah nah mahn sarang hahl geh (oh~)
Ah pah doh nuh mahn eun gee dah reel geh (oh~ nuh gee dah reel geh)
Geu dae kkah jee mahn nae geh dohl ah oh myuhn dwae
Nuh mahn eul sarang hae (sarang hae) forever (forever~~)
Forever and ever.. you see? (come on listen, girl)
You're my girl and that's my world
Yeah, baby.. only one..
tim kiem lien quan :
A Fool's Only Tear karaoke
A Fool's Only Tear mp3
A Fool's Only Tear guitar tab
A Fool's Only Tear piano
A Fool's Only Tear hợp âm
A Fool's Only Tear nhạc chuông
A Fool's Only Tear nhaccuatui
A Fool's Only Tear nhacpro
A Fool's Only Tear lyriccuatui